Dante's Inferno is the video game take on the epic story titled Divine Comedy. It's the story of a man named Dante fighting through the nine circles of Hell on his quest to save his wife from the clutches of Lucifer. Dante is a crusader during the time of the Crusades in Jerusalem. He returns home to find his wife dead and her soul being taken by the Devil as a result of an oath he betrayed to her over something, though you're not sure of at the time. As she is taken away, he is stabbed in the back by her killer and after defeating Death, he takes his scythe and venture into Hell after her.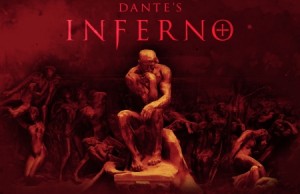 The story is good and you can tell that a lot of time went into the making of the game. The landscapes are amazing and everything has a great feel to it. The narration is done well and the gameplay pulls you in, but not for too long. The problem with the game that I had was that there were a lot of videos. It felt like when I was about to get pulled into the game there was another long video I had to sit and watch.
If you've ever played a game like God of War or Castlevania: Lord of Shadows, then the fighting system should feel fairly easy to adjust to. And for those that haven't, it's not too hard to pick up. You have a light, heavy and ranged attacks. That's about it. There are times when it will ask you to press a button and something huge happens, but that's just following the HUGE button shown on the screen. Anyone can do it. They have a skill tree based on two sides, holy and unholy. As you progress through the game you can absolve or punish enemies and souls for experience toward the holy and unholy sides respectively. As these increase, your tree goes up and you use souls to purchase abilities. My one huge complaint about the game is the enemies. They are the same throughout the game. You'd assume every level would have it's own group of enemies. Lust would have women, greed would have mouths, so on and so forth. But they just add on the baddies and cycle them throughout the entire thing. So I was disappointed in that.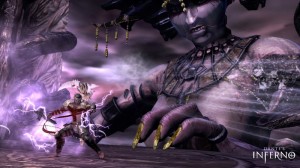 There are some pretty visual things in the game, such as women with their breasts hanging out, dead babies, and people suffering, so I'm not recommending this to anyone young. Like I said before the story does pull you in and if you can stand videos jumping in, have at it. Otherwise, there's an animated video of it that follows the game almost exactly from what I can remember.
There is a DLC titled St Lucia. From what I understand, it allows you to build an arena type of setting with objectives and tasks for you and a friend to team up and finish. The customization is pretty great and you can upload them online for others to play and rate. Pretty great system in my opinion, but I didn't get it because the games been out for over a year.
Dante's Inferno Rating
Graphics: 8.5/10 The in-game graphics were good and well developed. There were some things that got to me, like the walls you climb, but I think they intended the souls to look cheap. They're in hell anyway. Why make them look good, right?
Gameplay: 7/10 The fighting system was good while searching for items it made you want to check little nooks and crannies. It was linear, but that's to be expected. Big fault though is still the enemies. I'm disappointed fighting enemies I saw in the first circle of Hell down in the 8th.
Audio: 8/10 Fairly good. The narration was done well and the tone seemed to fight the place. One creepy thing was how the babies cooed at you when they were coming at you and when you attacked them they cried. Those designers just thought of how to make you shiver a bit.
Replay Value: 7/10  If you're going for the achievements, I'd say you may go at it 2 or 3 times because you left something somewhere. There is no picking levels, so you gotta start from the beginning. I'm almost done with my 2nd pass right now.
Overall, I'd have to give Dante's Inferno a 7.8 out of 10. The game was well done and entertaining, but the lack of different enemies was upsetting. The graphics and story pulled you in even when things did get a little repetitive. The one thing I disliked was if you missed something, you had to start a brand new game from scratch. Granted, I did beat the game in about 4 hours or so but that's besides the point.