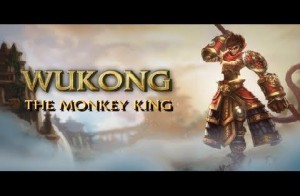 League of Legends Wukong
League of Legends new champion, Wukong, represents the legendary monkey king from Japanese folk tales. Wukong is the embodiment of the character from the Dragon Ball Z series as well.
See the Resemblance?
Wukong, the new League of Legends champion, is a beast and very fun to play. Wukong's primary role is to inflict dps while decoying the enemy champions. Wukong's abilities allow him to strike from afar (nimbus strike) and then create an image of himself to distract enemy champions (decoy) and run away if need be. Not to mention he comes equipped with the legendary monkey king staff and has a move that will inflict extra damage on your next hit.
League of Legends Wukong Nimbus Strike
How to play Wukong– Wukong is to be played as a hit and run champion. In the beginning of the game it is recommended to purchase Dorans Blade to increase dps and health, which is a very useful starting weapon. I upgrade my first ability in Nimbus strike, then once I hit level 2 get decoy and start targeting enemy champions with Nimbus strike, and then use decoy to leave with no damage.
If you can work this effectively, you can push the enemy back to his tower and now they are on the defensive. The next item to go for are Berserkers Greaves, which increase Wukong's movement speed and attack speed. Wukong's main disadvantage is his speed, so its best to acquire these boots early in game and perhaps pick up the Ghost spell to chase enemy champions or run back to base. Be careful not to start an all out brawl with Wukong because if he is targeted by the enemy team then you will not last long. Wukong has decent health but he is not a tank which means you will get targeted. Just look for ways to help your teammates gank enemy champions or keep using the nimbus strike/decoy combo to push lanes. I normally go for Trinitiy Force (even though its very costly) after the Berserkers Greaves and by that time you should be a DPSing machine.
Wukong's Volcanic Skin
If you follow those basics you will definitely know how to play Wukong as a well rounded champion. However, here are the advantages and disadvantages of playing as Wukong.
Pros- Decent character all around as far as staying alive and inflicting damage. I have seen other League of Legends players carry a team with Wukong if you utilize his nimbus strike and decoy attacks properly.
Cons- He is a slow character, which makes it hard to play catch up if you normally have to run back and forth to the base. For some reason, Wukong cannot get a majority of the killing blows which means your teammates will usually get the kill. I have experienced this using Wukong myself and other Wukong players have as well.
Overall– Though Wukong is a fun character to play as and isn't to difficult to learn, I recommend trying him out at least once, especially if you enjoyed the Dragon Ball Z series. I mean nimbus cloud, magic staff, and a monkey tail what more could you ask for lol!
Finally, Riot Games has heard League of Legends fans complaints and added new maps to play! Dominion maps are set to come out soon and you can count that I will have posted a review with tips, tricks, and advice when Dominion is live.
Check out my full review of League of Legends