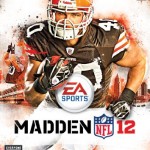 Madden NFL 12 is here on time as usual, just enough time to get excited right before the season begins. There are some noticeable upgrades compared to last years madden that make the game play a lot smoother and takes out all the WTF?! moments. By WTF moments, I mean the times where Darren Sproles would run right over and truck Ray Lewis for a touchdown (which would never happen in real life). The developers over at EA focused on eliminating, or at least minimizing, this issue by implementing a feature that takes into account a players force and where they are being hit.
On all the previous Madden games, when you tackled another player in the chest or from the side, the opponent would just fall backwards. In Madden NFL 12, the opponent will actually fall corresponding to the location of the hit. Not only that, but they implemented a new feature that takes into account individual force, because we all know most punt returners cannot truck a middle linebacker. So if you see Ray Lewis or Brian Urlacher in the back field staring you down, you better hold RB and tuck that ball for dear life.
The Graphics have somewhat been improved from Madden 2011, but not by any significant amount. This was a little disappointing because it tells me that Madden is at its full potential on this generation of consoles. Even though the graphics already look so detailed, that my dad will walk in and think there is a game on, why should we keep purchasing the same game over and over again? I think EA will have some trouble in the next few years trying to sell Madden if the only difference is roster updates.
Another feature that I enjoy is the sound track on this years Madden NFL 12. Snoop Dogg, Common, Rise Against, and many other artists made there way on the Madden NFL 2012 soundtrack and make you feel like bull dozing a few bodies into the ground.
The best thing I enjoyed about this years Madden, is the fact that on my first game I stomped the Raiders with the Chargers 28-0, and unlocked 4 different achieves for doing so.
Madden NFL 12 rates
Gameplay 8/10 The game has been improved over and over again, for more than a decade now. There is no wonder that there are T.V. shows just about winning this game in tournaments. Madden 2012 just adds more features to making a video game feel as real as possible.
Graphics 8/10 I can't complain about the graphics because it does fool older people into thinking there is a game on T.V., but the difference in the graphics from last years game are minimal.
Audio 9/10 This years soundtrack is a very nice addition to the overall feel of the game. When I'm leaving the menu screen on just to listen to the music, then you have to give the publishers kudos.
Replay Value 8/10 I will be playing Madden NFL 2012 for the entire football season, my friends will be playing Madden NFL 2012 for the entire season, and you will be playing Madden NFL 2012 for the entire season.
I recommend buying this game if you are a fan of football and video games. If you are a casual gamer wanting to know what the Madden craze is all about, then I suggest renting it on GameFly